About this project
Maecenas bibendum lacus gravida placerat consequat. Vivamus quis hendrerit mauris. Vestibulum laoreet felis sed consectetur sollicitudin. Sed a mauris massa.
Nullam interdum, elit nec facilisis iaculis, arcu enim condimentum tellus, ut convallis elit purus eu est. Interdum et malesuada fames ac ante ipsum primis in faucibus. Nullam odio nulla, commodo a dui at, pretium iaculis quam. Pellentesque nec pellentesque metus. Curabitur id ligula velit. Pellentesque diam magna, sagittis nec consequat sit amet, gravida sed felis.
As per Vastu and Feng Shui, the symbol of the elephant brings energies of beauty, silent power, kindness, and majesty. Though elephants are the largest and one of the strongest land animals living on our planet today while their energy feels invariably kind and wise. An elephant symbol is easy to use and can offer many different benefits throughout the home, office or business. A pair of elephants energize certain living spaces for good luck.
Protection, good luck, wisdom, and fertility are believed to be the main energies brought by the symbol of the elephant into any living space, be it home or office/business. The direction of an elephant's trunk has a complex symbol of its own, and this is the detail one should always pay attention when choosing the elephant symbol as a suggested cure along with its colors and material used.
An elephant's trunk is equally very sensitive and very strong and is used for a variety of purposes, from drinking to picking up food to greeting friends or warding off enemies. In most of our suggested applications, the elephants are usually depicted with the trunk up, symbolizing the showering of good luck and blessings. If you want to use the elephant symbol, for example, as a token of friendship and love, then look for intertwined trunks.
There are numerous elephant motifs in home decor, such as ceramic elephant statues, elephant toys, colorful elephant embroideries, and stunning photos of elephants in the wild. These and any other elephant images or symbols can be used for enhancing the energy level as per requirement.
Nine ways the elephant energy can be used in a Home/Office: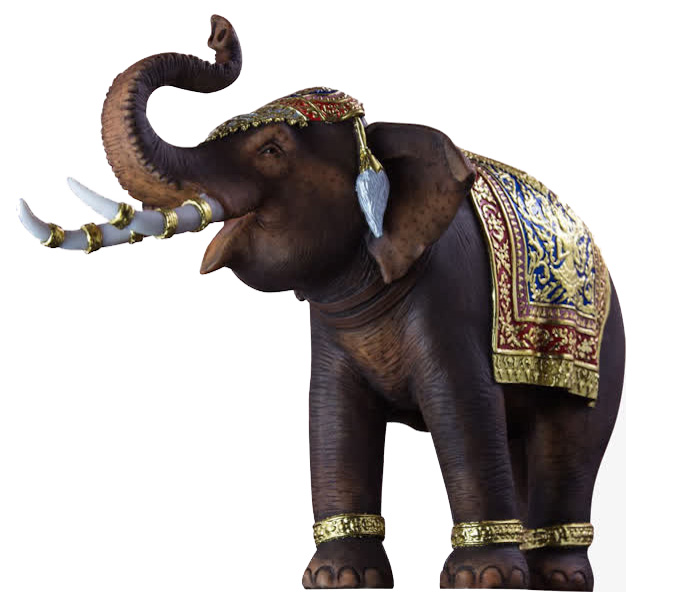 Bringing Good Luck into the Home: Elephants are considered a symbol of good luck for many reasons, most of them tracing their origin to many ancient folklores, place a statue of an elephant, or a pair of elephants, at the front door facing inward to signal good luck and blessings entering the home. The elephants should have their trunks facing upwards which allows the lucky energy to be dispersed throughout your home or office and also to represent prosperity, good luck, and success.
2. Protection:         Because of its strength and physical power, the elephant also represents protection and stability. You might have often seen a pair of elephants at the entrance of many Asian buildings, such as temples and businesses. Elephants impart a sense of respect and humility, and this does not take away from their strength or power.
To make use of elephants' protective powers, you can place a couple of elephants at your home's main entrance or even an elephant pair on a side table can work very well. If you have children, it is wonderful to make use of the protective powers of the elephant energy in their room decor. It can be done in a variety of ways; from elephant art prints or wallpapers to toys or figurines. Place an elephant or pair of elephants facing outward to protect the home to prevent the loss of 'Prana' energy from the home.
3. Promote Love and Fidelity:          A pair of elephants is commonly used in the bedroom or in the Love & Marriage area to activate a strong love relationship and faithfulness between couples. You should understand the mating pattern of the animal and decide whether you want to replicate this in your life and your love relationship. Placing them in South-West corner of the bedroom enhances love relationship.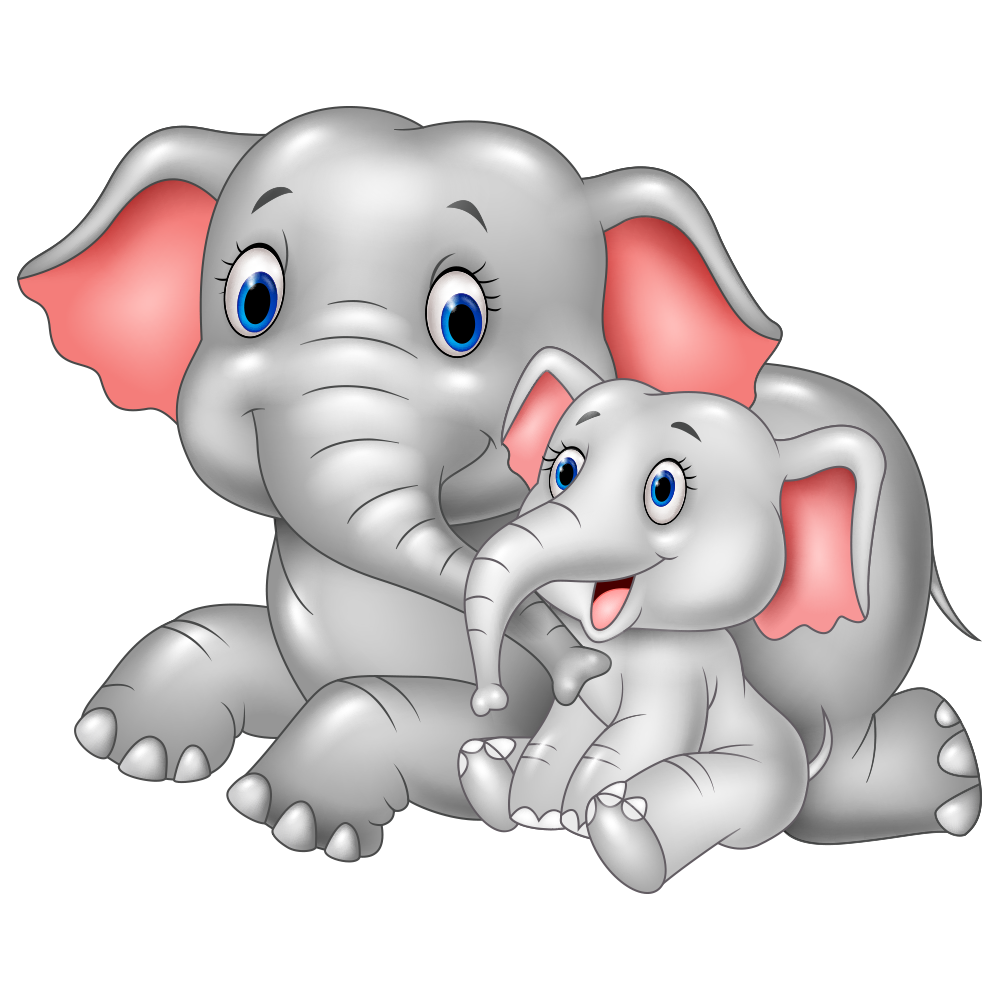 4. Bonding between Mother and Child:       Elephant images and figurines depicting a mother elephant and her baby symbolize the strong bond between and mother and child. This is a nurturing symbol to be placed in your home's family area. You might also place this maternal symbol in the parents' or child's bedroom to strengthen their bond.
5. Fertility:               One of the most popular uses of the elephant is fertility cure. When used for this specific purpose, choose an elephant with the trunk down. There are several explanations as to why the trunk down is beneficial for this specific application. One of them is that an elephant with its trunk down can store and accumulate energy. Another is that an elephant with its trunk down is prepared to push through various obstacles, so it makes sense that this symbol would be used for a couple seeking a fertility cure.  You may place an elephant statue besides the bed or place a pair, one on either side of the bedroom door, to welcome in 'infant' energy.
6. Knowledge, Wisdom and Academic Success:       The elephant is considered one of the sacred animals in Buddhism and is often depicted in Indian mythology. This symbol can be used in your child's study or your home office, as well as in the living room, to activate the energy of study and curiosity. Most of all, elephants emit an energy of kindness and strength, and there is no home that cannot benefit from this beautiful energy. You may also place a statue in your child's bedroom, on his or her desk, or wherever he/she does homework.
7. Energize the Career Area:             Place an elephant at or near the door of your office to promote power, wisdom, and success in your work life. If you have a small home office or work space, you can also place an elephant near the door or entrance to the space.
8. Work Success:   Place an elephant near the front door or the door of the office to attract power and to protect the person from bad energy in the office.
9. Good Management:       Place an elephant on your work desk or work surface or on a shelf facing out to symbolize wisdom, intelligent leadership, poise under pressure, and cautiousness.
After exploring the elephant energy, take a moment to feel your own understanding and association of this powerful energy. It symbolizes Protection! Strength! Wisdom! Good Luck! Kindness!! See which meaning has the strongest connection for you and let this determine how you invite this beautiful energy into your home.
Navaratri is a significant Hindu festival celebrated with much joy, enthusiasm, and fervor. It is a nine-day festival that signifies the victory of good over evil. It is believed that worshipping Goddess Durga during Navratri can help get salvation and seek her blessings for the future.
Theoretically, there are four seasonal Navaratri that fall every year. However, only two of them (Chaitra Navratri and Sharad Navratri) are considered supremely significant. The other two are 'Gupt Navratri'.
Chaitra Navratri is the first Navratri which is also known as Vasant Navratri. As per the Gregorian calendar, it falls in March or April.
The nine nights are dedicated to the three main goddesses of Hinduism – Parvati, Lakshmi and Saraswati. Navratri is separated into sets of three days. First three days of Navratri are dedicated to Goddess Durga, the Goddess of power and energy. Next three days of Navratri are dedicated to Goddess Lakshmi, the Goddess of wealth and prosperity. The final three days belong to Goddess Saraswati who is worshipped to acquire the spiritual knowledge.
Goddess Durga is also worshipped under nine different names for the nine days in Navratri. Every day, she assumes a new character, a new look and a new duty. These nine forms of manifestation are Shailputri, Brahmacharini, Chandraghanta, Kushmanda, Skandmata, Katyayani, Kaalratri, Maha Gauri and Siddhidatri.
Chaitra Navratri 2021 Dates (USA):
This year Chaitra Navratri would start from April 12, 2021 (Monday) and would end on April 21, 2021(Wednesday). The Ashtami falls on April 20, 2021, while Ram Navami would be celebrated on April 21, 2021.
First Navratri: Goddess Shailputri
Color: Red; Bhog Offerings: Cow ghee, it is believed to bring good health and keep the diseases away.
Maa Shailputri who is worshiped on 1st day of Navaratri and the Muladhara Chakra. A color of vibrancy and life force, Red is the foundation, the grounding, the passion, and the blood. It represents survival and guides you through change. It is the harbinger of fear, danger or something unusual. In that context, it warns us to pay attention or be alert. It indicates our connection with Earth.
Second Navratri: Goddess Brahmacharini
Color: Orange; Bhog Offerings: Sugar and fruits, it is believed to give longevity to the dwellers.
Maa Brahmacharini who is worshiped on 2nd day of Navaratri and the Swadhisthana Chakra. A color of vitality and strengths, Orange is the mix of red and yellow, and is associated with calmness, stillness and wisdom. It follows the stage after our foundation is strengthened, pointing to steady growth with lighter pleasures and pains along the way.
Third Navratri: Goddess Chandraghanta
Color: Yellow; Bhog Offerings: Milk, kheer or sweets, it is believed that offering the above things to Maa Chandraghanta will give you relief from misery and pain.
Maa Chandraghanta who is worshiped on 3rd day of Navaratri and the Manipura Chakra. A color of light, energy and strength, Yellow dispels all the dark elements just like the sun dispels the dark. It is associated with your growth, maturity and optimism. It is the center of all your energies in your body.
Fourth Navratri: Goddess Kushmanda
Color: Green; Bhog Offerings: Malpua (do not add fennel seeds to it), Offering this delicacy to the Goddess is said to enhance the ability to make decisions and intellect.
Maa Kushmanda who is worshiped on 4th day of Navaratri and the Anahata Chakra. A color of love and compassion, Green is compared to grass. When you walk bare footed on the grass, the freshness of nature, the touch of Mother Earth enters your body through your feet. It pacifies your mind (mental), body (physical), heart (emotional) and soul (spiritual) altogether.
Fifth Navratri: Goddess Skandmata
Color: Blue; Bhog Offerings: Banana, it is believed that it appeases the goddess and keeps you physically fit and healthy.
Maa Skandmata who is worshiped on 5th day of Navaratri and the Vishuddha Chakra. A color of serenity, clarity, vastness and eternity, Blue is compared to the element of sky. It is associated with anything beyond your mental speculation. Blue is all-inclusive, being even one of the elements colors of fire. Lord Shiva and Lord Krishna are blue because of their being all-inclusive. In Buddhism, it is the epitome of pure, calm, tranquil and serene mind.
Sixth Navratri: Goddess Katyayani
Color – Indigo; Bhog Offerings: Honey, it is believed that offering honey appeases the goddess and she blesses you with beauty and good health.
Maa Katyayani who is worshiped on 6th day of Navaratri and the Ajna Chakra. A color of royalty, Indigo represents deeper and inner knowledge associated with your thoughts. It represents your insight and clarity of thoughts. It connects you with everything with a larger picture. It is the destructive force of all illusions harbored in your mind.
Seventh Navratri: Goddess Kaalratri
Color: Violet; Bhog Offerings: Jaggery, Offering this Bhog to the goddess is said to remove all the evils and sorrows from your life. It also safeguards you from sudden calamity.
Maa Kaalratri who is worshiped on 7th day of Navaratri and the Sahasrara Chakra. A color of Divine Light, it is associated with blissful nature of living beings. It represents the inner bliss which is above all pleasures and pains. It is the epitome of purity of mind, body and soul. It connects you with the Cosmos, which is beyond material affairs around you.
Eighth Navratri: Goddess Maha Gauri.
Color: White; Bhog Offerings: You may keep one mature Coconut at the altar of temple in your home. It is symbolic of desire fulfillment. Keep the thin edge of coconut towards the temple. You are required to immerse this coconut on the last day. Coconut, it is believed that offering this fruit appeases the goddess and she blesses you by taking away all your sorrows and by giving you success. She blesses the childless couple with child.
On the eight day, the Goddess Durga is worshipped as 'Maha Gauri'. She is considered to extremely beautiful, white like snow and accessorized with white colored ornaments. She represents calmness and exhibits wisdom.
Ninth Navratri: Goddess Siddhidatri
Color: Pink; Bhog Offerings: Til (Sesame) or Flowers. Offering sesame or flowers makes this goddess happy and she blesses you with various Siddhis.
Maa Siddhidatri worshipped on the 9th day of Navratri. She is glorified for bestowing Siddhis (perfections) onto Yogis and Sadhaks. Worshipping Goddess Siddhidatri on the final day of Navratri marks the successful completion of Navratri Poojan.
Colors for Devotees to wear:
Many devotees of Goddess Durga take these colors seriously and wear clothes accordingly. It is believed that doing so brings prosperity, blessings and good luck. So, if you want to follow it too, let us take you through the 9 colors for each day.
DAY 1-ORANGE; The festival begins with the bright and vibrant Orange. This color signifies energy and happiness.
DAY 2 – WHITE; White is the color for Day 2, which is a symbol of peace and purity.
DAY 3 – RED; People wear red color on the third day of Navratri. It signifies beauty and fearlessness.
DAY 4 – ROYAL BLUE; The color of the fourth day of Navratri is royal blue. This color is considered good for health and wealth.
DAY 5 – YELLOW; People wear yellow on the fifth day of the festival. The color stands for happiness and brightness.
DAY 6 – GREEN; This color of the sixth day signifies new beginnings and growth.
DAY 7 – GREY; The color of the seventh day is grey, a color which stands for the strength of transforming.
DAY 8 – PURPLE; Called Ashtami, many people perform Kanjaks on this day. The color of the day, purple, signifies the power of intellect and peace.
DAY 9 – PEACOCK GREEN; This day is called Navami and is the last day of the Navratri festival. Rituals are performed on this day and Goddess Siddhidatri is worshipped. The color peacock green is believed to fulfill the desires of devotees.