01 Jan
Posted by Admin
0 Comments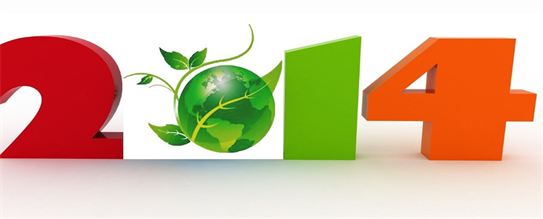 The beginning of the New Year 2014 is the right time to carry out some Vastu measures to bring love, peace and prosperity for your entire family. It's the time for get-together with family and friends and for strengthening old ties that might have been ignored for some time. While you welcome the New Year 2014, these Vastu measures will bring along love and luck. Here are certain Divine Vastu tips that you can follow on New Year's Eve or sometime around, to bring peace and prosperity:  
Get rid of all the clutter and unnecessary things which get accumulated in the house from time to time. Clutter creates stress, drags your energy down, and limits your ability to be productive and make lucrative financial decisions. Resolutions for a prosperous New Year should start with clearing the clutter in your home!

Clean the house thoroughly; look at the places which have been neglected e.g. the furniture that needs repair and health concerns that have been ignored for long.

Clear your desk and go through your files and cabinets in your workplace. Remove all unnecessary papers.

It's also the time to reflect back and assess the past and plan for the future. Review those few things that you desire to accomplish in the New Year and determine your goals.

Space clearing ritual removes all negative energies from the space and it can be performed even if you have not re-painted the house on Christmas. Along with re-painting and space clearing do not forget to remove all clutter from the house. For example:
'Earth' element decorations such as, Ilex or holly (Flowering plants in the family Aquifoliaceae) wreaths, wood figurines, or ceramics (such as the Dove of Peace) work best in the South-West area of your gathering area to support family harmony.

A bowl of water ('water' element) with flowers floating in it (or a punch bowl) placed in the North-East area of the room you use for entertainment will encourage a prosperous New Year.

Place candles, lights, and red decorations in the South-East area, which is associated with the 'fire' element, to stimulate a sense of well-being. Scented candles of pine, vanilla, cinnamon, and cranberry are festive scents for harmonious holiday gatherings

Hang bells and chimes in the North-West area, related to the 'air' element, to enhance joyous relationships.

Keep the center 'space' element area open and uncluttered to support stress-free communication and encourage the success of your holiday gatherings.
After you have re-painted the house or cleaned it, perform a space clearing ritual. Dissolve a lump of rock salt in water and mop the floor of the apartment with this salt water. Take some camphor in a bowl, burn it and walk along the sides of each room of the house thereby allowing the space to be filled with the fragrance of camphor. Before performing these two steps, you can repeat a positive affirmation "By performing this space clearing ritual, my house is freed from all negative energies and full of positivity. All the inmates of the house are leading a healthy, harmonious and prosperous life this Christmas and the full year ahead."

If you feel that negative vibes have been induced into your family life, health, relationship etc., wipe the floor with rock salt water for at least seven days. You can even place a small bowl of rock salt to absorb the negative and stagnant energy. Remember to change the salt every day.

Space clearing rituals like ringing a bell or burning incense in all the rooms of the house can also help. This physical clearing will also initiate a process of mental peace and relaxation.

Sit down in a calm corner and mentally relive all the negative experiences that are depleting your energies. Clear out those negative feelings and accept the transition of these events in your life.

Rearrange your surroundings; increase your level of physical activity. All this will ultimately transform into your surrounding into a much more balanced and harmonious environment.

Hang some bells, bring a new plant, display auspicious symbols in the living room and decorate the main entrance of your house and workplace.

Welcome the New Year by lighting candles and 'diyas' (Clay lights) and burning incense, especially in the dark corners of the house. If you are not the partying type, just organize a nice family feast. Even if you have plans spend the time with friends and colleagues, try to spend the first day of the New Year with family. Go to a temple or organize a small 'pooja' or a 'hawan' at home. It will strengthen the miraculous bonding with the family.
Wishing You All Good Health, Wealth, Happiness, Love and Peace For the
DIVINE VASTU CONSULTATIONS AND RESEARCH CENTER