17 Oct
Posted by Admin
0 Comments
(October22, 2013)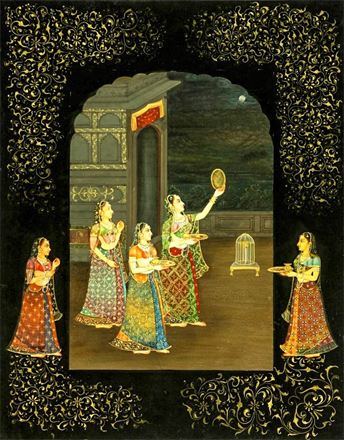 'Karwa Chauth' in 2013 will be celebrated on 22ndOctober. It is an annual Hindu festival where married womenobserve fast for the well-being and long life of their husband. The day fallson the fourth day of Kartik month in Hindu calendar, just nine days beforeDiwali. In western calendar, the festival generally falls in the months ofOctober and November. The tradition of observing fast on Karwa Chauth is keenlyfollowed by married women with much fervor and gaiety. For long life andwellbeing of husbands, wives passionately observe this auspicious strict fastand abstain from food and water for the whole day. The fasting ritual duringKarwa Chauth signifies the unending love, respect and devotion of a wifetowards her husband. They specially pray to Goddess Gauri (Parvati) for thewell-being of their husband. These festivities are aimed towards strengtheningthe bond between a husband and a wife. Unmarried girls observe this fast forthe desired husbands or for the fiancé.
'Karwa Chauth Vrat Katha':
Though there are many legendary stories connected with this festival but the mostpopular one goes that a long time ago, a merchant had seven sons and onedaughter. His daughter was married and visited her maternal home forcelebrating Karwa Chauth with her mother and sister-in-laws. When her brotherswere having meals at night, they asked their sister to also join the dinner.But sister replied "brother, moon is yet not visible, so I'll have mydinner after looking at moon". Brothers were worried about the health oftheir sister. Thus, after hearing response of sister, brothers went out incolony, ignited fire, and fixed a round sieve in front of the light of thatfire. They made an illusion that the light coming out from sieve is light of moon.Sister couldn't understand deceive of brothers and offered water to illusion ofmoon thinking it was the real moon. However, her sister–in-laws knew that falseof their husbands and also told about this cheat to their sister, but sheignored and proceeded further for completion of Karwa Chauth Vrat and ate mealswithout looking at the real moon in sky. This of her deed made Lord Ganesha andGoddess Karwa completely unhappy. And due to her false, her husband soon met todeath. She realized and repented for her mistake and prayed Lord Ganesha toforgive her. In return, she was asked to observe Karwa Chauth Vrat carefullynext year which was the only way to find her husband alive. The story showsthat if women are bent on her devotion and love towards her husband, she willbe blessed with a wonderful married life, no matter how many tests andhardships she might endure. Likewise, married women observe Karwa Chauth fastevery year with depth of their heart and with complete devotion for long life,prosperity and goodwill of their husband.
Preparations for 'Karwa Chauth Vrat' and Rituals ofthe Pooja:
On KarwaChauth day, ladies wake up early in the morning and take bath after their dailyroutine. A small wooden platform is established at North–East corner of homeand is wrapped with red piece of cloth. Image of Karwa Chauth and idols of LordGanesha and Shiv-Parvati are established on wooden platform. Karwa Chauthcalendar can also be purchased from market. Pooja thali is prepared keeping'roli', 'kumkum', 'chandan', raw rice, 'diya' (lamp), flowers, and'dhoop-batti'. One 'Karwa' (clay pot) is filled with water and kept near imageof 'Karwa Mata' on the wooden platform. Some women also fill Karwa with wheat.Mouth of the Karwa is covered with a small clay plate and kept sugar with moneyor a coin on it. Four 'Chini Karwa' (sugar pots) are kept at another corner ofwooden platform. 'Chini Karwa' are sent by in-laws of married women. Cosmetics,Sari or money is also kept near wooden place for giving it to theirmother-in-law after the completion of fast. Beautiful colorful 'rangoli' isalso crafted surrounding the wooden platform. First Pooja (worship) is offeredto Lord Ganesha and oath of fasting is taken.
Breakfast:
The faststarts with a festive breakfast ('Sargi') which is to be had early in themorning before sunrise (4a.m.). The 'Sargi' may be consist of COCONUT, SAVIYA,MITHAI, ALMONDS, FENIS, JALEBI, and milk. It is very important to the newly wedgirls/women as they get a gift pack from their home (mother's side). The giftpack is traditionally known as "Baya" which contains almonds, 'matthis' andsome gifts. The 'Baya' should reach the girl's house before evening. It is atraditional that the 'Sargi' should be sent or given to the woman by her mother-in-law.
Henna:
Henna orMehandi is said to be auspicious for a married woman, and is an important partof the Karwa Chauth ritual. However, its more auspicious if the woman getshenna designs applied on her hands a night before.
Dressing Up:
Womenshould be dressed up in a traditional way with jewelry and cosmetics similar tothat of the bridal make-up ('16 Shringaar' namely Bindi, Sindoor (Vermilion),Maang-Teeka/Mangal-Sutra, Kaajal, Nath or Nose Ring, Haar or Necklace, EarRings, Mehandi or Henna, Bangles, Armlets, Rings, Hair style, Waist Band,Paayal or Anklet, Itra or Special Fragrance & Bridal Dress). However, it'svery important to avoid dull colors on this day; bright, positive colors arethe order of the day!
The 'Pooja':
During theKarwa Chauth ritual (evening), women sit in a circle with idol of Goddess'Gauri' (made of earth & cow dunk or an idol of Goddess Parvati) along withKarwa in the center. The Karwa is placed next to the idol, on a hoistedplatform. Then, every woman must apply 'tilak' on the idol to seek herblessings and pray for a blissfully long married life. Thereafter, an olderwoman of the group should recite the Karwa Chauth Katha (story), once the storyis over; other women must rotate their 'thalis', reciting the Karwa Chauthsong.
Once thePooja is over women are allowed to have tea or a glass of water. They then haveto wait for the Moon to come out, to break the fast. Remember, fasting womencannot eat anything.
Breaking the 'Karwa Chauth' Fast:
The womenawait the rising of the moon. Once the moon is visible, a fasting woman, withher husband nearby, view the reflection of the moon in a vessel filled withwater, through a sieve, or through a cloth or 'dupatta'. Then water is offeredto the Moon, to secure its blessings. She then turns to her husband and viewshis face indirectly in the same manner and then receiving the first bite offood and water from the husband. In some regions, the woman says a brief prayerasking for her husband's life. It is believed that at this stage, spirituallystrengthened by her fast, the woman can successfully confront and defeat death.
Vastu Perspective and 'Karwa Chauth':
In Nature,all five elements (Earth, Water, Fire, Air and Space) are in balance. VastuShastra is the architectural science that can create maximum harmony in arelationship through a unique process of balancing the five elements in yourhome. It allows for the beneficial energy to be readily available to supportyour desire for peace, happiness, and fulfillment.
Each ofthe five elements is associated with a direction and each direction has aparticular influence on us. Different aspects of relationships are mostoptimally supported in a specific direction. When there is stress caused byfinances, sexual imbalances, overwork, inability to communicate, children, andhealth challenges, relationships do not thrive. The North-East areaof your residence is associated with the Water Element and can influence thegrowth of your relationships. The South-East area of your home isassociated with the Fire Element. The South-East influences theenergy needed to have lively relationships due to the Fire Element.The South-West area of your residence is associated with the EarthElement. The South-West influences the stability of your relationships. TheNorth-West area of your home is associated with the Air Element. The North-Westinfluences the ability to create and communicate. The Centralarea (Brahmasthan) of a residence is associated with the Space Element. Ifthis area is open there will be good communication in relationships. If thereis clutter, restroom, a kitchen or no open space in the central area of a home,there will be disagreements.
According to Divine Vastu, if the fast is keptcorrectly, it not only benefits the marriage but also brings prosperity for thewhole family. Follow these Divine Vastu tips for 'Karwa Chauth Pooja' to makethe ritual more fruitful:
1.While eating 'Sargi' or 'Baya' in the early morning (4a.m.) try to sit in North-East direction to get positive cosmic energy andblessings of planet Jupiter.
2.Between 12p.m. to 3p.m. spend your time with familyand friends preferably in South-East direction to warm up personal relationsdue to the presence of 'Fire Element' in this direction but avoid sitting withhusband in this direction.
3.After listening the 'Vrat Katha' at about 4p.m., spendtime with your husband in South-West direction to give stability and growth tothis relationship.
4.At the time of ending the 'Vrat', water offerings('Arghya') and prayers to the Moon, select North-West corner to get blessingsof Moon planet to enhance love and stronger relations with the husband.
5.You should face the North-East or East directionduring the puja.
6.Avoid keeping 'puja-sthal' in the bedroom.
May 'Karwa Chauth' 2013 BringImmense Elation in Your Life!