09 Nov
Posted by Admin
0 Comments
Divine Vastu Tips for 'Dhanteras' and 'Diwali'- 2015
'Dhanteras'
'Puja' Date and Time: November 8, 2015
Time of 'Puja' 17:23 to 19:14 (USA)
'Diwali'
Date and time November 10, 2015
Time of 'Puja' 17:15 to 19:06 and/or 16:40 to 20:24 (USA)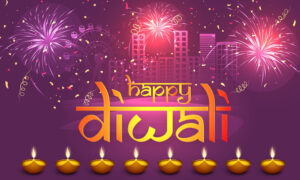 'Dhanteras' (Hindi: धनतेरस, Sanskrit: धनत्रयोदशी)
This is the first day of the five-day Diwali Festival as celebrated in India. The festival, known as "Dhanatrayodashi" or "Dhanwantari Trayodashi". The word 'Dhana' means wealth and 'Trayodashi' is 13th day. It is celebrated on the thirteenth lunar day of 'Krishna Paksha' (dark fortnight) in the Hindu calendar month of 'Kartik'. On 'Dhanteras', Goddess 'Lakshmi' is worshiped to provide prosperity and wellbeing. 'Dhanteras' holds special significance for the business community due to the customary purchases of precious metals on this day. Lord 'Kubera', the God of Wealth is also worshiped on this day.
'Puja' Rituals for 'Dhanteras'
It is considered auspicious to buy Silver coins, Gold items or 5 steel utensils on Dhanteras. You can buy all if you wish. Buy a new broom also but do not use it till Diwali. During 'Puja' keep all new things and other old jewelry, coins or valuables. Make sure not to broom from November 8th till Diwali November 10th.
On November 8, 2015, the 'Dhanteras' day, take one steel or silver glass, one red cloth or pouch, 8 dry dates, 11 copper pennies, a small bowl of raw rice, pinch of saffron and 5 green cardamoms. Tie all of them in the red pouch or cloth and keep them on silver/ steel glass filled with water either in North direction of your house nearby any window or in North/ North-East/ East direction (preferred 'Puja' place direction) from Nov. 8 through Nov. 12. On Nov. 12, pour the water in any plants inside the house or take shower with that water. Keep 11 pennies inside the rice container and prepare 'kheer' using the same rice, saffron and cardamoms. Keep 8 dry dates tied in the red cloth/pouch at your money place.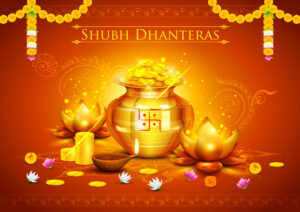 'Dhanteras 'Puja' Vidhi'
Take a small wooden slab with small legs ('पट्टा').
Make a 'swastika' with 'roli' on it.
Now put an earthen lamp on it and light it.
Take a 'cowry shell' with hole and put it into the earthen lamp.
Sprinkle 'Gangajal' or pure water around the lamp 3 times.
Put a 'tilak' of 'roli' and raw rice on lamp.
Offer some sugar and one quarter coin to it.
Now offer some flowers to lamp.
Do 'Pranam' to earthen lamp.
Offer 'Tilak' to family members.
Sit in your ''Puja'' room.
Recite the following 'Dhanwantari Mantra' at least 108 times.
"Om Dhan Dhanvantaraye Namah"
"ॐ धं धन्वन्तरये नमः"
Another धनतेरस मंत्र ('Dhanteras Mantra'):
"मृत्युना पाशदण्डाभ्यां कालेन च मया सह।
त्रयोदश्यां दीपदानात सूर्यज: प्रीयतामिति॥"
It means:
त्रयोदशी को दीपदान करने से मृत्यु, पाश, दण्ड, काल और लक्ष्मी के साथ सूर्यनन्दन यम प्रसन्न हों।
इस मंत्र के द्वारा लक्ष्मी जी भी प्रसन्न होती हैं।
Say after the end of recitation, "O Lord Dhanwantari! I offer this recitation in your lotus feet. Please give us good health."
'Naraka Chaturdashi'
Nov.09, 2015 'Naraka Nivaran Chaturdashi' (popularly known as 'Naraka Chaturdashi') is a Hindu festival, which falls on the second day of the five-day-long festival of Diwali. The Hindu mythology narrates that the 'Asura' (Demon) Narakasura was killed on this day by Krishna and Kali. The day is celebrated by early morning religious rituals and festivities followed on.  Lighten two earthen lamps ('Diyas') for Lord 'Yama', the Lord of Death', ('Yama Deepak') filled with mustard oil and place them on right and left side of outside the main entrance gate of your house door. Its flame must face towards south direction. Since this is the night before Diwali, it is also called 'Chhoti Diwali' or Minor Diwali. It is believed that by performing this 'Puja' untimely death of any of the family member is prevented.
Diwali 'Puja': 
Date and Time November 10, 2015; Time of 'Puja' 17:15 to 19:06 and/or 16:40 to 20:24 (USA)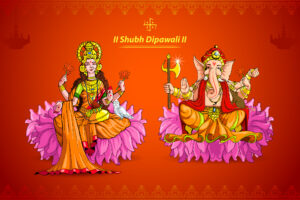 Lakshmi 'Puja' is an important ritual during Diwali. First and foremost step is to clean the house. Through the 'Puja' we are inviting Goddess Lakshmi to our house and she likes everything to be neat and clean. In some communities, even the broom is worshipped on the Lakshmi 'Puja' day. This symbolically represents the need for cleanliness.
Three forms of 'Shakti': Goddess 'Lakshmi', Goddess 'Saraswati' and Goddess 'Durga'; Lord 'Ganesha' and Lord 'Kubera' are worshipped on the day. No 'Puja' is performed without paying customary tributes to Lord 'Ganesha'. Lord 'Kubera', represents wealth, and he is the treasurer of Gods. In homes, usually the locker or safe in which gold and cash is kept symbolically represents the seat of 'Kubera'.
'Panchopchar 'Puja'' of Lord 'Ganesha' and Goddess 'Lakshmi'
Ganesh Panchopchar 'Puja': First do 'Puja' of Ganesh ji.
Show earthen lamp to Him.
Offer 'dhoop' to Him.
Offer scent to Lord Ganesha.
Offer flowers in his lotus feet.
Offer sweets ('Naivedya') to Lord Ganesha.
Diwali 'Puja'/ Lakshmi 'Puja' Process
First decide on a place to perform the 'Puja'. Spread a clean cloth and create a bed of rice.
A Kalash (pot) is placed on the bed of rice. Fill about 75% of the Kalash with water. Put a betel nut, flower, a clean coin, and some rice in the Kalash. Now arrange mango leaves around the opening of the Kalash. Place a Thali (a small plain plate) on the Kalash. On the Thali, draw a lotus with turmeric powder and place the idol or small photograph of Goddess Lakshmi.
Place some coins on the Thali. On the right of Kalash, place the idol of Lord Ganesha.
If you need, you can also place the idols of Saraswati and your favorite deities. Create a peaceful and calm atmosphere. Take some water and sprinkle on all 'Puja' items to purify them.
To begin with lit 4 Mukhi Diya with 2 'Elaichi' and some 'Kesar' at the puja place and put silver coin/s along with other jewelry and whatever you brought on Dhanteras near Laxmi Mata and Diya. For 'Prasad' soak some 'jalebi' in milk and offer it to Laxmi Mata and Ganesh ji. Keep $11 (1 set) and $72 while doing 'Puja'. Next day donate $11 in temple and wrap $72 with silver coin in a yellow cloth and keep it in the locker/ 'safe'. (You can keep this money along with the earlier Diwali puja money also).
Lit Deepak in Desi Ghee and Dhoop. Firstly perform Ganesh 'Puja'. After Ganesh 'Puja' perform Navagraha 'Puja'. Do Lakshmi ji 'Avahan' and recite 'mantra':
"Aadi Shakti Mateshwari, jai Kamaley Jagdamb,
Yahan Padharo Murti mai, Kripa karo avilamb. "
Offer 'Akshat' i.e. rice to Ma Lakshmi Ji. Sprinkle water in a 'Puja' Thali thrice. Pour and rinse/ offer the idol of Ma Lakshmi ji stepwise with Ganga Jal, Milk, Curd, Desi Ghee, Honey, Sugar and after that mix all the items and again offer idol of Ma Lakshmi ji with the mixture called 'Panchamrit' and finally offer Ma Lakshmi Ji Ganga Jal. Wipe the idol with a clean cloth. Offer 'Vastram' i.e cloth to Ma Lakshmi Ji. Smear forehead of Ma Lakshmi ji with tilak of 'Roli'. Offer flowers specially Lotus to Ma Lakshmi Ji. Offer other 'Shringar' Items like 'Sindoor', Bangles etc. to Ma Lakshmi Ji. Perform 'Puja'/ 'Archana' of Ma Lakshmi Ji with "Dhoop" and 'Deepam'. Read Lakshmi Ji 'Katha'. Offer 'Prasadam' or 'Bhog' to Ma Lakshmi Ji. Offer 'Tambool' which is a combination of 'Paan, 'Elaichi' etc. to Ma Lakshmi ji. Do 'Puja' of your Accounts books, Cash Box, Pen, Ink and other items. Offer money/ gift as per your status and offer it to your 'Guru' or in temple. With full devotion do the 'Aarti' of Ma Lakshmi Ji. Once again offer flowers to Ma Lakshmi Ji. Make a Prayer or a wish to Ma Lakshmi ji. Do the "Shama Prarthana" asking Ma Lakshmi ji to forgive you if anything wrong have been committed by you during the 'Puja' and to accept your offerings and wish.
Later on lit five desi ghee diyas and keep one in kitchen, one in bedroom, one in living room, one in restroom and last one in any other room. Lit all other diyas in mustard oil and decorate them on the outside boundaries of your house, parapet and other surroundings.
Please note that this is only a guideline. You can show flexibility in the 'Puja' process. Some of the items needed might not be readily available. But you can keep the house and surrounding clean. Finally, if you can't perform the 'Puja', wherever you are simply mediate on Goddess Lakshmi.
What to DO and Not to DO 
DOs
Always fill the main 'Puja' Diya with Ghee. You can use mustard oil for other diyas.
Always set the 'Puja' area in the North-East direction and sit facing the North while doing 'Puja'
Place the idols left to right Lord Ganesha, Lakshmi ji. You can place other idols also.
Keep another ghee Diya lit throughout the Diwali night in the South-East corner of your home.
Always arrange diyas in a group of four denoting Goddess Lakshmi, Lord Ganesha, Lord Kuber and Lord Indra.
Make greater use of the colors red, like you can use red diyas, candles, lights, bedsheets and red flowers. You may supplement it with the pink color.
Always start Diwali 'Puja' with the worship of Lord Ganesha who is worshipped as "Vighnaharta" in Indian tradition.
You should worship your account books also, if maintained. They should be placed in front of the idol of Goddess Lakshmi, but a little towards the west.
Include lotus flower in Diwali 'Puja' as it is the favorite with goddess Ma Lakshmi.
Recite the 'Mantra':
"OM ANG HARING KALIM SHREE MAHALAXMI NAMAH".
DON'Ts
When choosing gifts for friends and relatives, avoid leather items, cutlery and crackers. If you want to gift any of these, accompany them with some sweets/ 'mithai'.
Gambling should be avoided and even if it is played, it should be done as a game and play it without money.
Avoid alcoholic drinks and taking non-vegetarian food on Diwali.
Don't leave the 'Puja' area unattended throughout the night to make sure that the diyas remain lit. Keep on adding ghee to it when required.
Do not use too many candles. Use 'diyas' instead.
Do not place such an idol of Ganesh ji in the 'Puja' area, which is not in a seated position and the one with right-side turning trunk.
Do not light crackers when the Lakshmi Puja is on or immediately after it.
Do not clap while singing 'Aarti' of Lakshmi ji (you can use a small bell) and do not sing too loud as it is believed that goddess Lakshmi abhors loud noise.
Do not place goddess Lakshmi alone, without her constant companion Lord 'Vishnu'.
"Wishing you and your family very Happy Diwali 2015"
REWA KUMAR  Ph.D. (Vastu)
Vastu Specialist
+1-510-868-3338