16 Oct
Posted by Admin
0 Comments
VASTU and DIWALI

The season of festivals has begun in India and the most important festival Diwali; The Festival of Lights, is round the corner. It is a festival of immense joy and celebrations.  Everybody is getting ready for this important festival. People are busy preparing their homes and themselves for the special festivities and maybe these Vastu tips are helpful.

And it never hurts to do something the better way. Vastu, the science of placement, can be put to good use in your home and workplace on Diwali day to bring positivity inside. It will also aid you to receive the blessings of the reigning deities of this festival. It will be noticed that we have been following these principles of Vastu all these years without even being aware of them, we have been doing all these things in the name of tradition!!

Relevant Vastu Tips on Diwali for Specific Directions:
On the auspicious occasion of Diwali, you can try the following to achieve specific results:

East: Keep a water feature. This will help to start new projects.

South: Hang pictures that inspire you to achieve more.

South-East: A bowl of fresh water on top of a $100 bill. This helps in bringing business's prosperity. South-West: Take a clay pot and fill with yellow flowers. This will increase savings.

West: Place a piggy bank to enhance your energy to work and make money.

North: To improve cash flow, hang a crystal ball.

North-West: Keep your bank/investment papers in this sector.
Here are a few Vastu suggestions to help make your life better this Diwali and after:
Clean up and De-clutter:

Tide up Your place. It helps you to get rid of negativity. Remember the old days when every house used to be white washed before Diwali! It helps to clean up. White washing or getting a fresh paint coat also energizes spaces.  First of all, de-clutter your home. Throw away all those unwanted, unused things in your home like as old magazines, clothes, broken furniture, crockery or children's toys. This is a symbol of making way for new things to enter.
Laxmi Ganesha Image: Place an image of Lakshmi and Ganesh on the front door. This enhances positive energy and removes negativity.

'Rangoli': Making rangoli at the entrance is a part of Diwali decorations. To make it more auspicious, use colored powder mixed with rock salt, to invite Ma Lakshmi.

Laxmi Foot Prints: You can also make small footprints symbolizing the goddess Laxmi's entry into your home. Use a mixture of rice flour and vermilion to make the small footprints.

Torans: It is also said that toran fixed on the main door brings good luck. Make a garland with marigold flowers and mango leaves and tie it to the frame of the main door. This represents nature's abundance and attracts good luck.

Moving 27 things: According to Vastu, moving 27 things in your home works wonder. So on Diwali, you can try to move 27 things in your home and see what changes it brings to your life. Well, don't think that changing 27 things is a big burden. A small positioning change of say the salt and pepper bottles or the flower plants is enough. So this is not a very big task. Watch how fortune invades your life by doing these simple changes. It's called 'MAGIC OF 27'.

Spray Salty Water: Mix salt, preferably rock salt, in water and spray this salted water in each and every corner of your home on regular basis, especially around the time of Diwali. It is believed that salt absorbs all the negativity from air, purifies the environment. You may perform this remedy twice a week. Don't forget to wash your hands after spraying the water.

Light up Your House: Keep your house well lit on Diwali. This includes the dark corners of your house as well. Also see that the Diwali 'diya' is kept lit all the night.

Decorating your house:  

Preferably use 'diyas' (earthen pots) with pure ghee for lighting the house. In case, this is not possible, linseed and mustard oils can be used. These oils have beneficial health effects and kill harmful germs and insects.

While placing the 'diyas' on parapet and the boundary walls, they should be in multiples of four. This is because each 'diya' represents the reigning deity of Diwali i.e. Goddess Lakshmi, Lord Ganesha, Lord Kuber and Lord Indra (you would not want to separate them!).

'Rangoli' is a must on Diwali day to welcome Goddess Lakshmi. 'Rangoli' is a colorful design made on the floor. In a traditional household, the lady of the house begins her daily chores by drawing lines of 'rangoli' in front of the 'puja' room and the 'Tulsi' plant. This is said to purify lady and bestows her strength to remain lively and fresh throughout the day. So make a 'rangoli' at or near the entrance of your house. And if you also have a 'puja' room or 'puja' space decorate it with 'Rangoli'.

 Ready-to-use colors and ready-made designs are available in the markets, or you can use the traditional material for it, like sand or rice powder mixed with food coloring. This infuses positivity all around.

Another way to make the home environment positive is to place a crystal bowl filled with water and rose petals on the center table of your drawing room. Float five diyas or candles in it and light them after the sunset.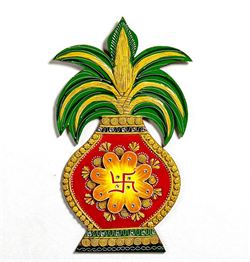 The Right way to invite Goddess Lakshmi:
 Place the idol of goddess Laxmi on the right side of Lord Ganesha's idol. Draw an eight-leaved lotus with a thin paste prepared with sandal wood, saffron and clean water between the idols. Place gold, silver coins and local currency above the lotus and worship them along with Laxmi.

Worship Lord Kuber facing North and draw 'swastika' and 'Shubh-Laabh' on the safety vaults, cash boxes, etc.

In a clean tray prepare 21 or more lamps and place them in the following manner: Two lamps in North-East direction, two each in North, East and West. One besides the 'Tulsi' plant, one besides the source of water, and one besides the drainage or sink. Remaining lamps should be kept in the South-East corner.

The sweets should be kept in North. Leave the windows on the Eastern, Northern and Western side of the house open all night which is considered auspicious for Laxmi to enter your home.

Choose the South-East corner of the open ground for burning crackers wherever allowed. Burn crackers in such a way that you always face East and the viewers face either East or North.

At the entrance to the house, in addition to 'Rangoli', make small footprints to symbolize the goddess Laxmi's entry into the house.

Place an image of Lakshmi and Ganesha on the front door. It enhances positive energy and dispels negativity.

Another interesting decor idea as per Vastu is the display of colorful 'bandanwars' or door hangings. The designs, colors, bells and mirrors used in making these door-hangings give your home a beautiful look as well as create the perfect ambience for attracting prosperity. ·        Fix 'Toran' on the main door to bring in good luck.

Marigold flowers and mango leaves tied to the frame of the main door represents nature's abundance and attract good luck.

Refill your normal sugar reserves in the kitchen to ensure sweet days ahead.
Tips to attract money on Diwali:
While moving furniture and other things, don't forget to do it in accordance with Vastu, as these small movements could turn your fortunes.

While moving or changing positions of your plants, shift your money plant to the North. Moreover, if the vase containing money plant is blue in color, it will immediately start attracting money.

If you are buying artifacts and decorative items for the house, add a pair of galloping red horses in your shopping list. When placed in the South, the horses provide a steady flow of money. They should be placed facing the North.

While buying a painting, buy one with a scene that has a lot of greenery in it. Place it on the wall in the North zone of the house.

Goddess Lakshmi's picture should not be placed in South-West direction, as it will result in money loss. Place it in the West zone of your home to get her blessings.

If you are buying Lord Ganesha's statue in copper (or already have one), place it in the South-East zone of the house. It will help remove hurdles from your work.
Distributing sweets is always treated to be auspicious. Then why not to give sweets with the gift items, so that even if some mistake is committed in giving the gifts then the malefic effects should be reduced.
Do not give fire crackers in the shape of the gifts to the friends or the near ones. It is not good for them and the givers.

Do not give leather and cutlery sets as gifts, because in certain cutlery items knives are there. It is not auspicious for both giver and takers. This is the festival of creating ties and enhancing love while knives are used for cutting purposes. It is believed that it affects the relationship and/or the health.

Leather items are made of the dead animals' skin and hence not treated to be auspicious. We should give gifts which symbolize the concept of life.

Always plan your future during these auspicious and happy days.

Diwali is the ideal time to chalk out your financial goals for the year, or review them if required.

Divine Vastu suggests that you write down your wealth aspirations.
What Colors to wear and gift?

 It would be better to avoid wearing black colors on Diwali. Also avoid giving black colored clothes and other gift items.

Wearing of red, yellow, purple, white, cream, blue colors would add to the joy and cheers.